Al Jarreau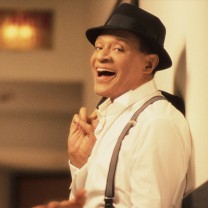 Categories : Artist, Jazz
B1E Performance Date: Sep 28, 2013
Wiki
Al Jarreau's unique vocal style is one of the world's most precious treasures. His innovative musical expressions have made him one of the most exciting and critically-acclaimed performers of our time with seven Grammy® Awards, scores of international music awards and popular accolades worldwide.
Jarreau began singing at the age of four, harmonizing with his brothers and performing solo at a variety of local events in his hometown of Milwaukee, Wisconsin. Music, however, was not always the major force in his life. He excelled in sports and was an above-average student throughout high school and college. A graduate of Ripon College in Wisconsin with a Bachelor Of Science degree in Psychology and a Master's Degree in Vocational Rehabilitation from the University of Iowa, her relocated to San Francisco to begin a career in rehabilitation counseling. But this was not be.
In 1975, following an extended stint at the Bla Bla Cafe in Los Angeles, he was spotted by Warner Bros. Records talent scouts and was signed to a recording contract. His debut album for the label, We Got By, was released to unanimous acclaim. It was a reception that spread across the continent and over the Atlantic when Jarreau was awarded a German Grammy for Best New International Soloist that same year. A second German Grammy came his way with the release of his follow-up album, Glow. And the rest is history.
Al Jarreau received his own Star on the "Hollywood Walk of Fame", in March 2001, commemorating his status as one of the best singers of his generation.
After more than 30-years Al Jarreau is undoubtedly one of the greatest performers and innovative vocalists the music world has ever known. Time Magazine called him 'the greatest jazz singer alive' and his work over the past five decades illustrates perfectly the reason why.