Bridget Kelly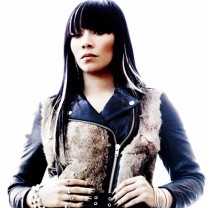 Categories : Artist, R&B
B1E Performance Date: Feb 23, 2013
Wiki
Born and raised in the neighborhood of Chelsea in New York City, Bridget Kelly lives in the epicenter of fashion, theater and art, but music is where she found her home. Growing up in a household where Motown, Jazz and Pop songs were always playing, Bridget's love affair with music was sparked at a very early age:
"When I was about 3-years-old, I would watch movies with my parents, and The Sound of Music was the first time I really discovered music. I remember the following Christmas, I got up on a chair and sang Christmas carols at the top of my lungs," she recalls.
Attending the prestigious LaGuardia High School for Performing Arts in New York City (upon which the musical Fame was based) was also a major influence in her decision to pursue a career in music. "LaGuardia was an experience!!" Bridget reflects, "It was an art school, so I was constantly surrounded by creative people like myself and it broadened my perspective tremendously. I grew to appreciate every other art form, including my own. I was given the opportunity to write songs, and perform them for my peers. That experience swayed me completely."
By 2008, BK was more than ready to take her career to the next level, writing songs on her Blackberry phone every day and performing regularly at open mic shows in clubs around downtown NYC; once even on a subway platform in Union Square! It was later that same year, after her management landed a once in a lifetime meeting with Roc Nation's A&R team, that BK's tenacity paid off – she was signed to her first major recording and publishing deal. As the saying goes "timing is everything," and BK's time has certainly come!