Corey Holcomb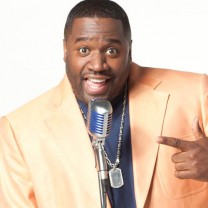 Categories : Artist, Comedy
B1E Performance Date: Jun 21, 2013
Wiki
Corey Holcomb is an American stand-up comedian, radio host, and actor. Born and raised in Chicago, Illinois, Holcomb got his start in comedy with the help of another Chicago-area comedian, Godfrey.
Often billing himself as the "ghetto Dr. Phil", most of Holcomb's standup material revolves around relationships, particularly relationships gone wrong. In addition to touring the country, he has appeared once on the Jerry Springer Show with fellow comedian DeRay Davis and as a regular on the stand-up/improv-based television shows Comic View, Def Comedy Jam, Last Comic Standing, and Nick Cannon Presents Wild 'n Out. He has appeared in three comedy specials of his own, Corey Holcomb: The Problem Is You, Comedy Central Presents: Corey Holcomb, and Corey Holcomb: Your Way Ain't Working. He also appeared on the 2010 edition of Shaquille O'Neal's All-Star Comedy Jam.
As an actor, Holcomb has appeared as guest star on several sitcoms such as Half & Half, Everybody Hates Chris and Tyler Perry's House of Payne, as well as minor roles in films such as Like Mike and Dance Flick. Holcomb is a recurring voice actor for the Family Guy spin-off The Cleveland Show, for which he provides the voice of Robert Tubbs, Cleveland's rival and the ex-husband of his wife Donna. Holcomb has been a regular personality on Jamie Foxx's satellite radio channel The Foxxhole since 2007. He currently hosts his own program, The Corey Holcomb 5150 Show, on Tuesday nights on the Foxxhole but later moved to RMC.