DL Hughley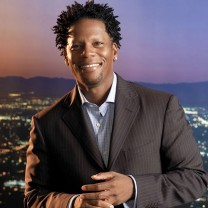 Categories : Artist, Comedy
B1E Performance Date: Sep 4, 2012
Wiki
Darryl Lynn "D. L." Hughley is an American actor, political commentator and stand-up comedian. He is perhaps best known as the star of the ABC/UPN sitcom The Hughleys, and as one of the four comedians featured in the Spike Lee film The Original Kings of Comedy. Additionally, he has been the host of CNN's D. L. Hughley Breaks the News, a correspondent for The Jay Leno Show on NBC, and a local radio personality and interviewer in New York City.
Hughley was born in Los Angeles, California, the son of Audrey and Charles Hughley, who was a Delta Air Lines maintenance worker.
From 1992 to 1993, Hughley was the original host of ComicView, the stand-up comedy program on BET. In 1998, through 2002, he wrote, produced and starred in the television sitcom series, The Hughleys. During 2005, he released a stand-up comedy album "D.L. Hughley: Notes From The GED Section" [1] and had a short-lived talk show on Comedy Central called Weekends at the D.L.. He is a member of The Original Kings of Comedy, and has also had roles on Studio 60 on the Sunset Strip, and on NBC's Scrubs as Turk's brother. He was the host of the 2008 BET Awards. He also attended the funeral of one of his best friends and fellow King of Comedy, Bernie Mac. At the service, he gave a tearful speech during the eulogy. It was announced in June 2010 that NBC has ordered a game show pilot that Hughley will host entitled Who's Bluffing Who? Also in June 2010, Hughley served as special guest moderator of ABC's "The View" for one day.
Hughley is scheduled to guest-star on TBS' Glory Daze[4] as well as guest host of Who Wants to Be a Millionaire.[5] Hughley has filled in for Meredith Vieira as a guest host on the game show Who Wants to Be a Millionaire.
Hughley's first book, I Want You to Shut the Fuck Up: How the Audacity of Dopes Is Ruining America, was published on July 31, 2012 by Crown Archetype Press.[6] Hughley was a contestant on Season 16 of Dancing With the Stars. He was been partnered with two time champion Cheryl Burke.