Gerald Albright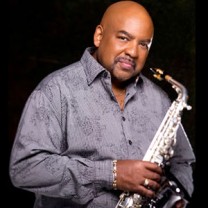 Categories : Artist, Jazz
B1E Performance Date: Oct 25, 2014
Wiki
One of the biggest stars of R&B, contemporary and straight-ahead jazz, Gerald Albright has earned his reputation as a "musician's musician." Born in Los Angeles, he began piano lessons at an early age. Albright's love of music picked up considerably when he was given a saxophone that had belonged to his piano teacher. By the time he enrolled at the University of Redlands, he was already a polished saxophonist. Albright decided to switch to bass guitar after he saw Louis Johnson in concert. A few months after graduating from college, he joined jazz pianist/R&B singer Patrice Rushen, who was in the process of forming her own band. Later, when the bass player left in the middle of a tour, Albright replaced him and finished the tour on bass guitar.

During the '80s, Albright became a highly requested session musician, playing on albums by a wide variety of artists – including Anita Baker, Ray Parker, Lola Folana, Atlantic Starr, Olivia Newton-John, the Temptations and Maurice White. He also toured extensively with Les McCann, Jeff Lorber, Teena Marie, the Winans, Marlena Shaw, Quincy Jones, and Whitney Houston, among many others. Albright also went on to record numerous successful solo albums for Atlantic Records. Two albums hit the number one slot on Billboard's Top Contemporary Jazz Chart, and were nominated for GRAMMY® Awards in 1989 and 1990. Phil Collins asked him to front a Big Band in 1998, and they toured together. The two of them also recorded one of Albright's tunes, "Chips N' Salsa" on Collins' Big Band Project, entitled A Hot Night In Paris. Later that year, Albright released Pleasures of the Night with Will Downing on Verve Forecast, which hit No. 1 on Billboard's Top Contemporary Jazz Albums chart as well.

Albright moved to GRP in 2002 for the Groovology album, and continued to maintain his busy schedule as a session man. His second GRP album, Kickin' It Up, followed in 2004. Two years later, he signed with Peak Records, which released the 2008 GRAMMY® nominated New Beginnings, and the 2009 GRAMMY® nominated, Sax for Stax; both in the category of Best Pop Instrumental Album.

Over the years, Albright has appeared on numerous TV shows such as A Different World, Melrose Place and BET Jazz segments, as well as piloting a show in Las Vegas with Designing Women star Meshach Taylor. Albright was selected to be one of 10 saxophonists to play at President Clinton's inauguration ceremony. Along the way, he has sold over a million albums in the U.S. alone and has appeared on nearly 200 albums by other artists.

Albright released Pushing The Envelope in June 2010 on Heads Up International, a division of Concord Music Group. Pushing The Envelope is a showcase for Albright's remarkably fine balance of songcraft and musicianship, and features special guest appearances by Fred Wesley on trombone, Earl Klugh on acoustic guitar and George Duke on acoustic piano. In December 2010, Pushing The Envelope received a GRAMMY® nomination for Best Pop Instrumental Album.

On June 19, 2012, Albright teamed up with GRAMMY®-winning guitarist Norman Brown for 24/7, their first album together. Featuring ten killer soul-jazz tracks, 24/7 includes updated versions of "Tomorrow," a Brothers Johnson classic from 1976, and "Champagne Life," from singer Ne-Yo's album Libra Scale. 24/7 was nominated for a GRAMMY® Award in the category of Best Pop Instrumental Album.

On August 5, 2014, Albright releases Slam Dunk and continues his reign supreme as the genre's most compelling and consistent artist. Fans will hear his searing and soulful sax lines on this twelve-track recording. And, they'll be in for a surprise, as Albright shows off his chops as a bassist, along with his ebullient tenor, baritone and soprano saxophone arrangements on his own compositions, and his super covers of classics by Phil Collins ("True Colors") and James Brown ("It's a Man's, Man's Man's World"), with special guest vocalist Peabo Bryson. In December 2014, Slam Dunk received a GRAMMY® nomination in the Best Contemporary Instrumental Album category.