Jonn Hart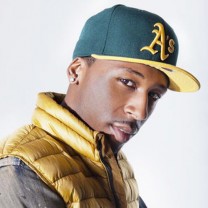 Categories : Artist, R&B
B1E Performance Date: Feb 23, 2013
Wiki
Redemption is a hard feat to achieve no matter where you are in life, but in the music industry it's even more difficult. Jonn Hart is achieving just that with venturing into a new dimension as a solo artist. Jonn Hart was once one-fourth of Californian R&B-singing sensation, Tha Outfit. Being a part of Tha Outfit already prepped Hart with a taste of fame and experience of what the music business is genuinely like, even giving him opportunities to perform in front of thousands of people, and collaborate with Hip-Hop legends such as E-40, Baby Bash and producer Drew Money (who has worked with the likes of Nicki Minaj and Lil' Wayne). Now, Jonn Hart is ready to start taking over the world with new music that is unapologetically his own.
"You know when you have a passion for something when you eat, breath, and sleep it. It's all you want to do and every day you want to do it better." That's Jonn Hart's response when questioned about how he knows music is what he's supposed to be doing above everything. The love for music he possesses is obvious while just communicating with the young singer. His prowess for not just singing, but song-writing and co-producing makes John Hart a sort of California-bred phenomenon not to be ignored. Hart is hardly an overnight sensation; he has paid his dues in full.
Jonn Hart reminisces on times he did hold steady jobs to pay the bills while pursuing music, and how all he could do was fantasize about recording in the studio. Hart would spend countless nights and early mornings putting his all into in his music. His passion comes across easily in conversation. "When something is your passion, you just know. You know when it feels right."
His encouragement is not just internal, but it's also comes from having a hefty support system. "Something like a fan sending me a tweet that they love a song or a performance keeps me going." Jonn Hart has seamlessly invited his fans of his former-band to join him on his new solo journey. Hart is equipped to keep the older fans and win over new lovers of his music with his newest project.
Jonn Hart's first taste for fans' palette is the single, "Who Booty" featuring Iamsu. "Who Booty" is a R & Bay Slap track that intertwines Bay area music sensibilities with modern R&B. It's designed to lighten the heart and move feet while still portraying musical sensibilities that show he knows what listeners want oozing out of their speakers. The new single is just the beginning, however. Jonn Hart is working endlessly in the studio on a new project that promises to not disappoint that will craft R & Bay Slap sound that will undoubtedly take over the world. After going through highs and lows, Jonn Hart is prepared to take his place as an R&B maverick steadfast determined to be suffocating radio airwaves and plastered on your television. The R in R&B stands for not just rhythm, but redemption as well.