Leela James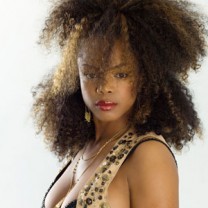 Categories : Artist, R&B
B1E Performance Date: Feb 28, 2015
Wiki
Like almost all other musicians hit with the neo-soul tag, the primary inspirations of Leela James -- a gritty-voiced singer and songwriter born in Los Angeles, California -- dated no later than the late '70s; Aretha Franklin, Chaka Khan, and Tina Turner were regularly cited.

Her debut album, very much a throwback affair, involved assistance from a range of noted studio rats from the fields of rap and R&B, including Kanye West, Raphael Saadiq, James Poyser, Chucky Thompson, and Wyclef Jean. The album, titled A Change Is Gonna Come (a definite reference to Sam Cooke), was released in late 2005 and peaked just outside the Top 40 of Billboard's R&B/Hip-Hop chart. Despite poor sales, the album fared well enough to earn James nominations for the 2006 Soul Train Music Awards and the same year's NAACP Image Awards.

After splitting from Warner Bros., the singer landed on the roster of Shanachie and recorded one of the label's more inspired all-cover sets, Let's Do It Again, released in 2009. The same year, she contributed to "Walk with Me," a highlight on Moby's Wait for Me album. She switched to Stax for 2010's My Soul, which featured some of her own songwriting input and peaked in the R&B/Hip-Hop Top Ten. A return to Shanachie yielded 2012's Loving You More...In the Spirit of Etta James -- a release more adventurous than the title indicated. She switched to J&T for her fifth album, the 2014 release Fall for You.