Tank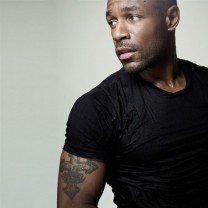 Categories : Artist, R&B
B1E Performance Date: Jun 26, 2013
Wiki
Durrell Babbs, profesionally known by the stage name Tank, was born in Milwaukee to a father who was in the Air Force and a church-going mother. When he was 11, the family moved to Clinton, Maryland, a suburb of Washington, D.C., which is where he grew up. As a youth Tank loved music and sang in the church choir, guided by his cousin Alphonzo Jiles, the choir's musical director. But Tank was just as involved in sports; he was a two-sport athlete (basketball and football), and developed a very muscled physique, which is partially where his eventual stage name came from.
After graduating high school, Tank almost had an opportunity to play football at the collegiate level, but when that didn't pan out, decided to instead work on creating a career for himself in the music business. He started out as a background singer and songwriter and eventually got his first big break performing background vocals for Ginuwine on the Budweiser Superfest tour. Another artist on the tour, Aaliyah, noticed how hard Tank was working and invited him to perform vocals on her set as well. Eventually, Blackground Records rewarded Tank with his own deal.
After spending years working on his debut album, Force of Nature was released in 2001, led by the Billboard Top 10 R&B ballad, "Maybe I Deserve." The album went gold in the U.S. (more than half a million units sold) and as of mid-2008 has moved more than 655,000 copies. Since then, he has released two more albums, but has found most of his success as a producer, songwriter and musician. He has contributed hits to numerous R&B artists, including Donell Jones, Aaliyah, Marques Houston, Monica, Joe, Kelly Rowland, Chris Brown and others. As of late 2007, he had formed a supergroup called TGT (Tyrese/Ginuwine/Tank).