Trinidad Jame$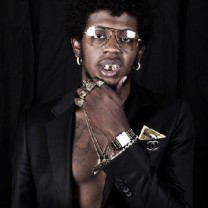 Categories : Artist, Rap
B1E Performance Date: Apr 14, 2013
Wiki
Nicholas Williams (born September 23, 1987), better known by his stage name Trinidad James (also stylized as Trinidad Jame$), is a Trinidadian-born American rapper. He has signed a major record deal with Def Jam Recordings, and is the CEO of his own record label Gold Gang Records. He moved several times to Canada, New York and Florida, His family eventually settled in Atlanta, Georgia. He went to catholic school as a child. He has also stated that he can't remember anything before age seven because of a head injury. In eighth grade he moved to South Carolina where he began playing basketball. He began rapping in November of 2011. He has also stated he was influenced by artists by the names of Jay-Z, Cam'ron, T.I. and Young Jeezy.
His debut single, "All Gold Everything" has charted on the Billboard Hot 100 and R&B/Hip-Hop charts. It is taken from his debut mixtape, Don't Be S.A.F.E.(Sensitive As Fuck Everyday), which was originally released July 31, 2012, and officially re-released along with the All Gold Everything music video on October 16, 2012. Like many other artists in the Hip-Hop industry, Trinidad James found his way to the mainstream audience from the video being posted on YouTube.
On December 13, 2012 it was announced that Trinidad James had signed a Joint Venture with Def Jam Records, for approx. $2 Million. In January, Def Jam Records released his breakthrough debut mixtape Don't Be S.A.F.E to iTunes, which included the official remix of All Gold Everything featuring fellow ATL rappers T.I, Young Jeezy & 2 Chainz.