Trombone Shorty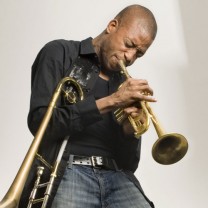 Categories : Artist, Jazz
B1E Performance Date: Aug 31, 2013
Wiki
Troy Andrews also known by the stage name Trombone Shorty is a trombone and trumpet player from New Orleans, Louisiana. He has worked in jazz, funk and rap music. Andrews is the younger brother of trumpeter and bandleader James Andrews as well as the grandson of singer and songwriter Jessie Hill. Andrews began playing trombone at age six, and since 2009 has toured with his own band, Trombone Shorty & Orleans Avenue.
Andrews was a featured member of Lenny Kravitz's horn section in a world tour that shared billing with acts including Aerosmith. Andrews received the President's Medal from Tulane University President Scott Cowen at the university's Unified Commencement Ceremony at the Mercedez-Benz Superdome in New Orleans, La., in recognition of his community service work with the Horns for Schools Project. He thrilled the graduates and visitors by playing the trombone and singing "When the Saints Go Marching In" along with Dr. Michael White's Original Liberty Jazz Band at the ceremony. Andrews also performed at The White House as part of the Black History Month celebration, In Performance at the White House: Red, White & Blues, which premiered on PBS February 27, 2012.
The Trombone Shorty Foundation evolved from Andrews' Horns For Schools Project, a collaboration with New Orleans Mayor Mitch Landrieu that helped schools across New Orleans receive quality instruments donated by Andrews personally. The Foundation's mission is "to preserve and perpetuate the unique musical culture of New Orleans by passing down its traditions to future generations of musicians." In December 2012, the Foundation partnered with Tulane University to create an After School Academy to mentor aspiring, high school musicians in the New Orleans Area.